Strategy for Business Units
Business strategy is an integrated set of choices about where you choose to compete and how you will win. These decisions must take into account not only your own capabilities, but how they compare to competitors'; and they must reflect a clear understanding of the needs and capabilities of your target customers. Eos consulting can bring fresh perspective by helping you identify, make and integrate strategic choices, including:
Which products and services, geographies, and customers you can best compete for (informed by our tested product, customer and competitor segmentation methods)
What value proposition to those customers best leverages your strengths and exploits competitors' weaknesses
What business model(s) and asset configurations will enable you to deliver that value proposition most effectively
We work on both comprehensive strategy engagements and "deep dives" into a single issue.
Strategy for Functions
While a business strategy's scope encompasses the entire business (or business unit), a functional strategy focuses on one of the functional units that typically make up a business: sales, marketing, engineering, manufacturing, etc. A functional strategy describes how that function will deliver on its responsibilities within the business strategy: what decisions does the function have to make as part of the business strategy? What distinctive capabilities are required of the function for the business strategy to succeed? What does the function need to be able to do better or differently than competitors' functions? What should be done in-house, versus outsourced? We help you to define and make these choices quickly yet rigorously, guiding you through our proprietary processes for making and communicating strategic choices.  Examples of functional strategy include:
Manufacturing Strategy

:  What and how much to build (or source) and where
Sales Strategy:  How you will sell into targeted segments to beat competitors
Design Strategy:  How to design and configure products and services to deliver the capabilities promised in the value proposition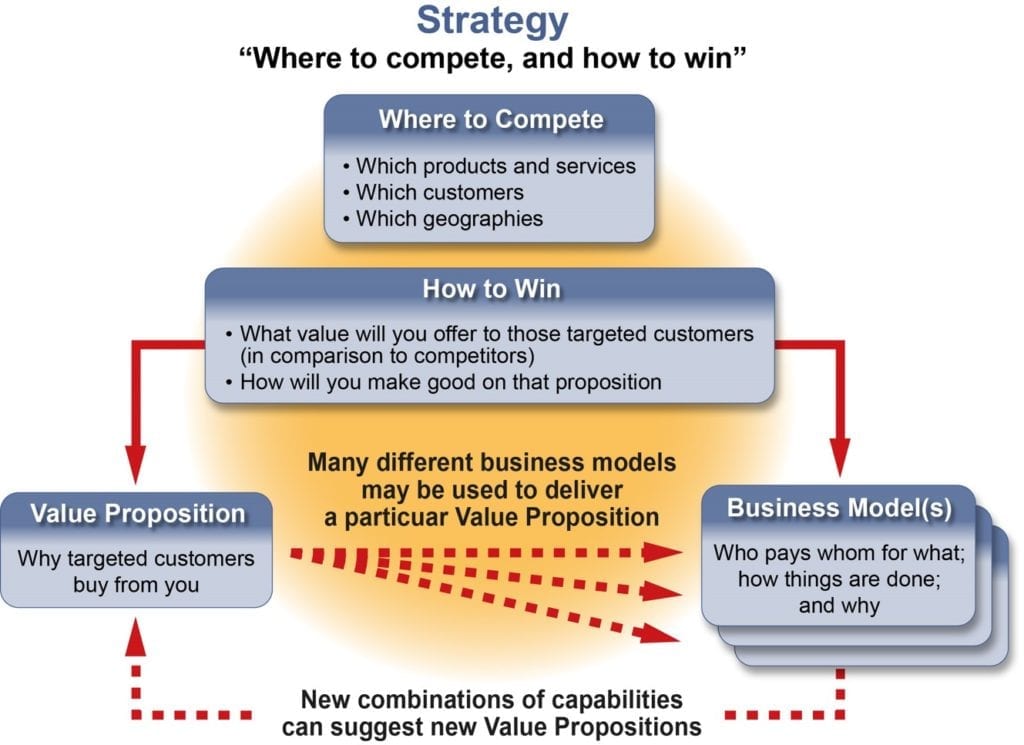 Today's trading environment, disrupted by both a pandemic and trade wars, is forcing reconsideration not only of sourcing but of
manufacturing
strategies.
We can help; click here for more details.
A plan is not a strategy — neither is a goal
The term "strategy" is often employed to make direction-setting and tactics sound more thoughtful and important than they really are. But to be effective, a strategy must describe a coherent set of choices governing action, taking others' behavior into account. These choices are about where to compete and how to win.  A strategy meets three conditions
It comprises choices governing action, not merely the actions themselves. These choices are decisions about which principles to follow, thus guiding action in a variety of circumstances. That way, strategy has "legs" – it doesn't need to be defined in every variant for each conceivable (or unanticipated) situation.  Real choices require tradeoffs. A strategy is as much about what you will not do as what you will.
It is a coherent set of  principles — so they are mutually reinforcing and consistent (or at least not contradictory). A business strategy needs to specify not only "how you win" but "where you compete" — that is, in what markets, products, and services, and for which customers.
It takes the behavior of others into account — it considers what others might do, particularly in response to your own actions. These may be competitors, partners, or regulators — anyone whose actions could affect the outcomes of your actions.
Client Engagement Examples
Global Business Strategy
SITUATION:
The $5b Crop Harvesting division of this F100 global manufacturer was combating "too many priorities" and struggled to focus major development efforts to attain revenue and profitability targets. They hired us to develop a global business strategy to align all geographies and development efforts uniformly around a common vision.
SOLUTION:
We worked with key members of the executive team to deliver a comprehensive strategy, including:
Detailed market segmentation based on a set of business assumptions/scenarios
In depth segment assessment and prioritization and business model development
Financial modeling of targeted segment revenue growth and costs
Manufacturing footprint determination
Program priorities to target prioritized segments geographically
Vision, strategy and strategic pillars
RESULT:
An engaged and aligned team, they now wield a strategy that explains where they are focusing their development efforts and why, to obtain increased — and more consistent — funding for their product plan.
BU Growth Strategy
SITUATION:
The Power Systems division of this company was stagnating and required a more effective "go to market" growth plan/strategy. In particular, the strategy needed to help determine the optimal mix of products and services to be sold to which segments (and which customers therein) within which regions to drive profitable growth. It was particularly important for the strategy to be actionable by marketing and the sales force.
SOLUTION:
Working with their executive team, we:
Analyzed the company's customer base and segmented their markets based on internal background materials/perspectives and existing external market data
Determined the attractiveness of each segment and the fit to company capabilities/strengths
Developed growth models from financial forecasting data
Established a manufacturing footprint plan
Determined which products and services should be offered to each segment in order to maximize revenue, market share, potential growth and profitability
RESULT:
Key markets were identified and targeted for increased sales. Products were matched to their ideal markets, and as a result, overall revenue and profitability rose substantially.
Manufacturing Strategy
SITUATION:
This company was facing explosive growth and needed to expand capacity in order to meet market demand. They needed to determine in what locations to manufacture which products/components, incorporating numerous factors, including: current and future customer demand by region, location of current facilities, geographic labor conditions/costs, governmental stability, infrastructure costs, supply chain, etc.
SOLUTION:
We worked closely with executives and an operational core team to:
Determine a workable approach and objectives given an aggressive business strategy
Develop the numerous factors critical to the decision-making process and determine a set of viable candidate scenarios
Model the financial and assess the non-financial factors for each scenario
Decide on the optimal scenario/variants and formulate a strategy, including elements cost, risks and associated critical success factors
RESULT:
The strategy was implemented throughout Europe and Asia, generating significant profitable growth — the company returned record results within two years.
A good strategy will struggle without appropriate governance; governance without good strategy is just ritual; and neither is effective without the right people in a suitable structure.
Strategy, Organizational Architecture and Governance need to be
aligned
for the organization to succeed. A good strategy that is poorly executed due to ineffective operating governance or an unsuitable organizational structure is likely to fail (or at least underperform). A reorganization that doesn't take into account dynamic strategy is less likely to meet its objectives; and operating governance, to ensure the right people are making the right decisions, must take into account the organizational architecture and the strategy.
Any of these elements may need to change due to new competitors, changed regulations, different input costs, new technologies, or any of the other myriad ways the business environment is continuously evolving. That doesn't mean they all must change or that they must change together — successful companies carefully evolve as the environment changes, and we can enter in any of these practice areas to begin to make improvements.
We employ distinctive techniques (such as business wargaming and organizational simulations) across all our practice areas, as well as proprietary frameworks and processes.